"System influenced mainly drivers, who don't have to fill drive books manually. Data are available nonstop and everything is under control from one place." 

Martin Palička, HESTA spol. s.r.o.
Hesta operates on the Slovak market of window producers and sellers for 20 years. More about its successes told Mr. Martin Palička. Since beginning our target was to provide the highest product quality and maximum customer satisfaction. Investment into technical and software modernization insure our position among market leaders. If we are talking about volume production, Hesta belongs among four top producers in Slovakia.
Wide range of products
Client in our company is offered by many products and accessories in door and window field. The highest demand we noticed, is for plastic windows, which have great thermal isolation values and also many color versions and decors. Plastic windows of different economic classes (classic, standard, standard+, passive) are produced from German profile systems of Inoutic company.
We are also interesting in production and sale of aluminum windows and doors, which have perfect design and surface modification. These aluminum systems are installing on the facades of buildings, which want to look representative with not strong accent on thermal isolation values.
The "hot" of our production is technology AluClip, which connects together thermal isolation value of plastic window with perfect design of aluminum window. Aluminum clap bail is installed on the classic plastic window. These bails are possible to produce in any color and surface modification (coating, foil). Thanks to many modifications is our company able to realize any client ideas.
Modern production and quality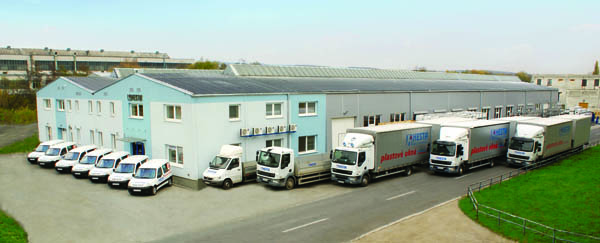 Modern technical and software tools, mainly coming from Germany, afford opportunity to be competitive and follow domestic and foreign competitors. Larger production halls with technological investments, allow us to produce 500 windows units per work shift. Total production of window units increased in last two years on the level of 150 000 pieces. Base of the success product are quality production tools and responsible employees. The proof of quality is the ISO 9001 certificate from German company TÜV CERT. Besides it, products are also tested in TSUS Bratislava. Following the strictest technical norms we can provide our clients 5 year warranty of quality.
System Dispečer simplifies our work.
Sale places of our partners are in the Slovakia, Czech Republic, Austria and Germany. For transport of our products to these places we use our fleet. Operational costs and effective work of employees – the reasons why we have decided to find system for fleet management. We chose system Dispečer and now we are able to monitor regularly our vehicles with no "paper work". System influenced mainly drivers, who don't have to fill drive books manually. Data are available nonstop and everything (refueling info, driven kilometers, service agenda) is under control from one place.
Transport a logistika  n. 5/2013, p. 9