"Although we had experiences with other tracking system, we have decided to try and instal system Dispecer. Our expectations were fulfilled. Now its potential is used in all departments of our company."
Ing. Peter Gabalec, Geodis Trans Slovakia s.r.o.
Geodis Trans Slovakia s.r.o., seating in Nitra, celebrates this April 3th anniversary of operating in the Slovak market in the transport field. This company is Geodis intragroup subsidiary. Companies of Geodis group operate mainly in France and West-European countries. Geodis Trans Slovakia s.r.o. disposes of fleet consisting of more than 100 semi-trailers trains. Thank to monitoring system Dispečer can company and its foreign clients keep vehicles, employees and cargo on eyes.
At present there are more factors influencing if transport companies will in the market succeed or fail. This IT age provides technology for transport costs monitoring and react to market demands very quickly. Geodis Trans Slovakia s.r.o. has understood from the beginning that competitiveness of transport companies will be conditioned by reliable monitoring system.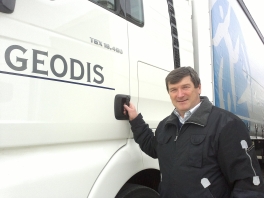 The first aim for company in monitoring system selection was visibility of fleet data – anywhere and anytime. In autumn 2010 company decided for monitoring system Dispečer.sk, though company has had experiences with other monitoring system, which has not fulfilled quality criteria. Expectations on system were simple and complex data and statistics overview, real state of costs, fuel consumption, travelling expenses calculation, vehicle maintenance and service agenda notification.
Mentioned expectations have been fulfilled and system has penetrated all departments in the company. Many employees in various department can use system`s wide potential. HR department uses drive book reports, which are generated automatically. In case of service and repair department system controls automatically vehicle maintenance. Managers can monitor actual vehicle location, drive statistics, vehicle work out or control fuel consumption. System Dispečer safes labor by charts and data export.
Months ago the company started to use communication console in vehicles. This step has led to telecommunication service costs decrease, especially in abroad. At present, company cooperates with monitoring system Dispečer.sk in new system modules innovation. Geodis Trans Slovakia s.r.o. believes that cooperation with the system providers will be one big step forward for both sides.