"We are very confident with this tracking system. It simplified our client claims documentary and also casualties."
Eduard Knotek, Autotrans-E.K. s.r.o.
In 1992 Mr. Eduard Knotek launched his business in transport field - first as a private individual, later as owner Autotrans – E.K. company. Step by step from one vehicle he has built up vehicle fleet to current number 20 vehicles.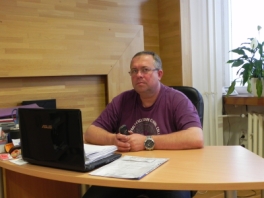 Since company`s beginning the owner is trying to lead his company in a professional way, be a reliable partner and keep responsible approach to each transport. As Mr. Eduard Knotek reflects, very beginning of entrepreneurship was quite difficult. Little by little he expanded his fleet park and made image of company.
At present, company owns 20 haulers and semi-trailers of various types: container chassis, tarp semi-trailers, box-type semi-trailers and refrigerated semi-trailers. Thank to this wide offer of vehicles and responsible approach to work can Autotrans – E.K. s.r.o. be very flexible in customer`s demand. Company focuses on Slovak market, but its domain is also European Union.
Because of clients' needs company decided to modern fleet management. From the wide range of monitoring units offer it chose system Dispečer. We are very confident with this monitoring system, says Mr. Knotek. It allows to react immediately to client`s needs, provide information about location (vehicle + cargo) and simply control fuel consumption. According to Mr. Knotek, system simplified customer`s claims documentary and also casualties. In this difficult time for enterprises, it is very important to have company costs under control, what can system provide.
Few years ago main portfolio of company`s clients presented Slovak market. It the competitive environment was necessary to keep one step forward. It was very important for clients to know, where exactly the vehicle with their cargo is. All information where gained only by mobile phones, what was expensive and time-consuming. Therefore company has monitoring system - solution for time and money saving.
Martina Janotková